Thank you for joining us
Follow-up to: Ecommerce Shipping in a Pandemic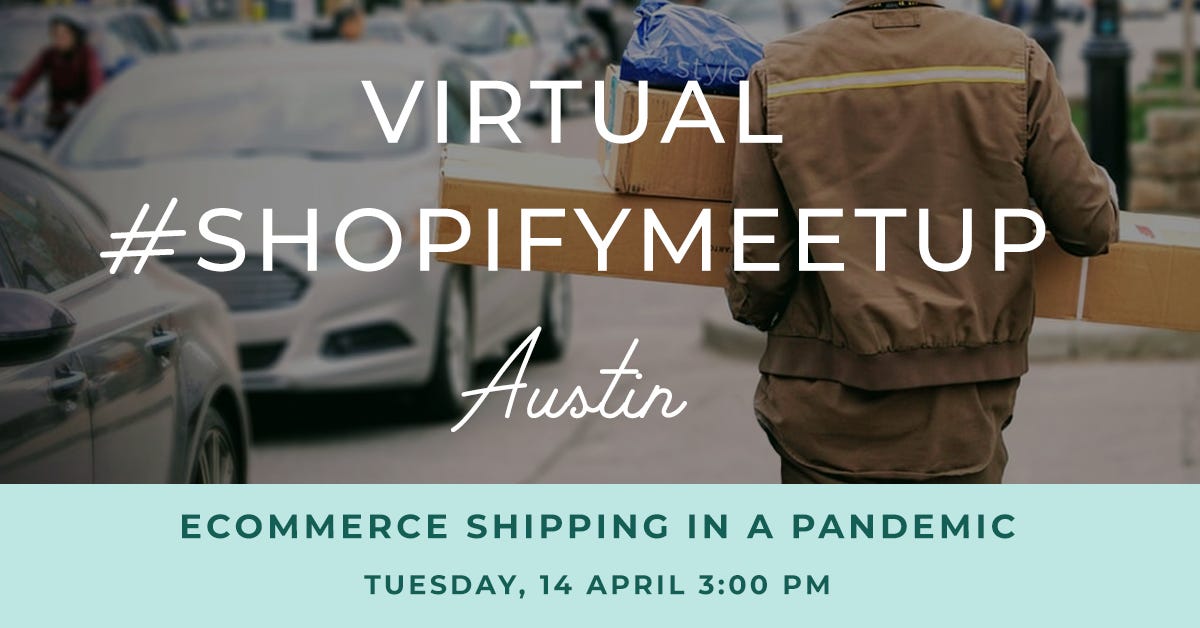 Thank you so much for joining us last week for our Meetup on Ecommerce Shipping in a Pandemic.
Our panelists
Krish Iyer
: Head of Industry Relations & Strategic Partnerships at
Shipstation
Krish is the Head of Industry Relations and Strategic Partnerships for ShipStation where he is focused on long-term relationships between e-commerce merchants and e-commerce marketplaces. A respected expert in cross border & marketplace e-commerce, Krish is often quoted in publications such as The Wall Street Journal, DC Velocity, Logistics Management, and Business News Daily. An industry leader with over 18 years of experience, Krish brings perspectives from FedEx, Pitney Bowes, Neopost and ShipStation.
ShipStation is here to offer a helping hand through these challenging times. We're offering a free 90-day trial for all new customers.
His current hustle is BANDLINERS (bandliners.com), a novel product for protecting watch bands that I created, launched, and am currently selling directly to consumers.
I also consult independently for startups in the area of data analysis & strategy, and I'm always on the hunt for new opportunities.
Jay B Sauceda is the CEO of Sauceda Industries, services small and mid-market merchants with e-commerce fulfillment solutions that aren't terrible. After a career in advertising, Jay B launched his own store and scaled it to 7 figures. He used his learnings as a merchant to build his 3PL that now services 50+ merchants from around the country.
Benoit has a Ph. D. In physics and a post-doc in distributed computing. He started and sold his computing service company. After working with the acquirer for a few years he launched a new venture in wine and eCommerce in Australia. Deciding to stay in the cold country (Canada) he then joined an eCommerce agency as CTO and joined Shopify later on. An avid reader, writer and learner, lifelong sports enthusiast (marathon, ultra, ironman and other crazy challenges) he is also a focused meditation practitioner and father of three teenagers. He practices daily his awareness, patience and pedagogical skills.
Mark Lupton serves as Partner & fractional CFO/COO at Amplify. He is an engineer by degree and spent his early career streamlining operations and increasing cash flow for energy businesses. After receiving his MBA from Acton School of Business, he has held various small business consulting roles in ecommerce finance, digital marketing and operational growth strategy. He now resides in Austin, Texas (with his wife, son & dog).
---
Discussion notes
How should I act?
"Act like you've been here before." - As a store owner, it's important to keep your messaging positive and to create a place of positivity. If you fire sale everything and don't stick to what has made your brand unique, it'll be hard to recover from that when things are all over. (Jay B Suaceda)
The merchant should feel a sense of esprit de corps and that their customers are also feeling that they are in it together with them. You may never have a time ever again where your customer will be as understanding about delivery challenges. (Kirsh Iyer)
How has Government Policy with impacted shipping during COVID19?
You are seeing outbound US Export Services via USPS being suspended indefinitely to about 50 markets, which is forcing merchants/brands to look inward in streamlining their operations to US customers. These countries include Saudi Arabia, South Africa and India. (Krish Iyer)
A lot is changing. What do we need to know about the major carriers (UPS, FedEx, Amazon, etc)

Shipping Operations:

Domestic seems OK

International is chaotic

Check your carrier website before shipping

Enable local-delivery and find/serve your local customers (Ben des Ligneris)
How has the definition of keeping customers happy with shipping changed?
Over Communicate. Notify your customers of delays to shipments. Offer them an easy ability to cancel an order. Be empathetic that the customer wants to know information more than usual. (Krish Iyer)
BE FORTHCOMING! Don't underestimate customer goodwill in this situation: if they're purchasing, they want to support your business. It's OK to ask them to be patient with respect to potential delays! (Ryan Zaczynski)
Buyers do not expect free and fast shipping anymore. If you have the goods, you have an advantage! (Ben des Ligneris)
"Remember that we're all in this together." - This is a unique situation which we're all experiencing together. Most customers are ok with services slipping. If something is a day or two late, it's going to be ok. (Jay B Sauceda)
Silver Lining: Time for Optimization
"Stop and fix" - If you're in the unique position of having a banner year because of increased sales, it's important to know that the things that worked in your shipping processes when you were small, will 100% break down when you're big. It's better to stop and fix your problems now while goodwill is still high with your customer base. (Jay B Sauceda)
Is my logistics plan optimized? Now might be a good time to reassess things...

Is your packaging design optimized for eCommerce?

Does your packaging design get as much attention as your product design? As an eCommerce company, it should!!

Are you being limited by the locations of your warehouses? The terms of your agreements? (Ryan Zaczynski)
Opportunity is there if you play this time right with sound strategy and the right messaging – we're going to come out of this stronger! (Ryan Zaczynski)
Business survival: (see https://www.shopify.com/covid19 as well when on Shopify) revisit your shipping and delivery strategy